SUCCESS STORY | POWELL INTRANET
Innovation and transformation: meravis reshapes the digital working world with Powell Intranet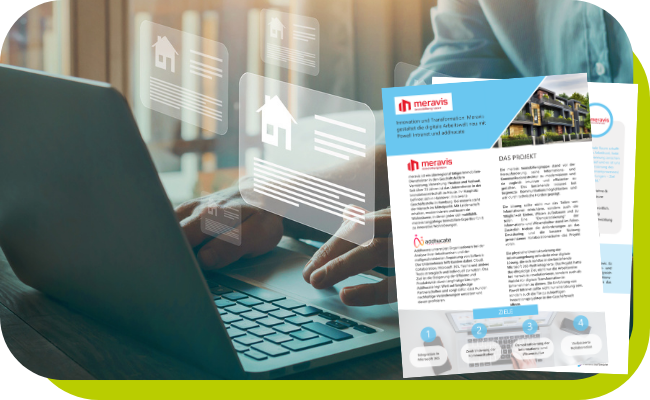 The digital landscape is constantly changing, and companies face the challenge of continuously adapting and innovating. Meravis exemplifies how to master these changes with flying colors. Learn about their journey into the digital future.
In this in-depth Success Story, you'll learn:
✔️
The
challenges
meravis faces in the digital age and how these are proactively mastered.
✔️
How Powell Intranet acts not just as a tool, but as a
central solution
for a dynamic and interactive workplace.
✔️
Addhucate's critical role serving not just as an
implementation partner
but as a driving force in this ongoing transformation.
✔️
Practical and tangible insights into the added value, benefits, and positive changes achieved day by day through implementation.
Join us as we dive into a world where modern technology and collaborative strategies work together to transform businesses into true industry leaders.
⬇️

Get the full success story now and discover how meravis took its communication and collaboration to a whole new level with the help of Powell Intranet.

Discover the modern intranet for your company
Customize and tailor your intranet platform to meet your needs and drive employee engagement with Powell Intranet.

Industry
Real Estate

Solution
Powell Intranet

Region
Germany
Used by over 450 companies worldwide
Optimieren Sie Ihr SharePoint Intranet
Erstellen Sie jetzt ein kollaboratives und individuelles Intranet mit Microsoft 365. Passen Sie es mühelos an, indem Sie Inhalte per Drag & Drop in vorgefertigte SharePoint-Vorlagen ziehen. Klicken Sie einfach auf "Bereitstellen" - fertig. Beginnen Sie jetzt und verbessern Sie Ihre Unternehmenskommunikation.
An intranet based on Microsoft 365
Powell Intranet, the award-winning, customizable and integrative intranet solution, lets you elevate your Microsoft 365 digital workplace for an exceptional employee experience. Powell Intranet is highly customizable and scalable. This allows organizations to customize it to their specific needs and requirements.
Improve Internal Communications with M365 Integrations
Encourage the adoption of Teams, Yammer and the Office 365 suite by integrating them into your digital workplace! Improve corporate culture and inform your employees about company news with the seamless Microsoft Teams integration.
Optimize employee engagement with the perfect intranet portal
Customize internal communications to meet your needs with Powell Intranet. Our platform offers secure content management, an intuitive user interface, and the ability to create targeted content for different teams and departments. Improve your communications now, whether in the office or remotely.
Companies who already love Powell Intranet
''Large, international intranet projects are a challenge, as many different concerns and stakeholders have to be taken into account. With addhucate, our project ran very straightforwardly, as a small, fixed core team was the contact person for all issues and thus the many different aspects could be understood and implemented quickly."
"We have moved from an interpersonal information transfer to an organized, interdepartmental information flow that guarantees fair and official information for everyone and quality service for the customer.''
Get useful insights!
Centralized information architecture: Learn how meravis creates a centralized digital workplace through Powell Intranet that simplifies and accelerates information gathering and knowledge sharing among employees.
Interactive Communication: discover how overcoming top-down communication barriers through a democratized information culture encourages active employee sharing and participation.
Seamless Integration: Dive into the technology behind it and understand how Powell Intranet seamlessly integrates with the Microsoft 365 world, and Microsoft Teams in particular, to deliver a cohesive and efficient user experience.